EVENT: Publicolor's Summer Design Studio at Paula Cooper Gallery Aug 17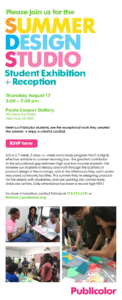 Publicolor's Summer Design Studio Student Exhibition + Reception on Thursday, August 17 from 5:30 to 7:30pm at the Paula Cooper Gallery (534 West 21st Street New York, NY 10011).
Meet Publicolor students, see work they created this summer, and enjoy colorful cocktails.
Summer Design Studio (SDS) is a seven-week, five days-a-week work/study program that's a highly effective antidote to summer learning loss – the greatest contributor to the educational gap between high and low-income students.
Publicolor immerses students in literacy and math through the scaffold of product design in the mornings, and, in the afternoons, they paint under-resourced community facilities.
This summer, they're designing products for the elderly with disabilities and painting city-owned early childcare centers.
For more information, contact Patricia at 212.213.6121 or Patricia@publicolor.org