FIT Grad Michael Kors Peeks Pre-Fall Collection
Michael Kors hosted a private event at his Madison Avenue store for members of the Couture Council of The Museum at FIT. The designer is an alumni of the Fashion Institution of Technology and has been very supportive of the school throughout his career.
As guests spilled into Kors' store with the women on a mission to find an outfit from the Pre-Fall 2013 collection, Chairman of FIT's Board Liz Peek introduced Michael and congratulated him on behalf of the board for his upcoming honor: the Artistry of Fashion Award at the annual Couture Council Luncheon on September 4th at the David Koch Theater at Lincoln Center.
Many smartly came to the event wearing the designer's clothes including: Couture Luncheon Co-Chairs Kamie Lightburn & Jieun Wax, Yaz Hernandez (Couture Council Chair) wore a two-tone contrast –Panel Ponte dress; Alexandra Lebenthal wore yellow zipper dress; Kay Facatselis wore a black Off-The Shoulder top; and Nancy Shaw wore an emerald green featherweight wool shrug with a sleeveless Wool-Crepe dress.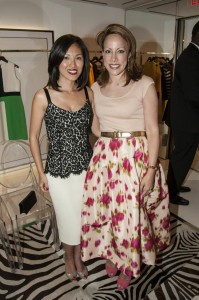 Other attendees included Kate Allen, Aundrea Amine, Deborah Chatman, Dina DeLuca Chartouni, Carole Divet Harting, Webb Egerton, Nikki
Erlick, Jim Erlick, Landy Erlick, Paige Ethington Hardy, Olivia Flatto, Joele Frank, Michele Gerber Klein, Jamie Gordon, Catherine Gund, Celia Hegyi, Chiu-Ti Jansen, Laurie Kasowitz, Eleanora Kennedy, Lance LePere, Stephanie Loeffler, Julie Macklowe, Christina McInerney, Chesley McLaren, Laura Mitchelson, Roseanne Morrison, Peter Panagiotopoulos, Emma Pennington, Arielle Picheny, Barbara Prawolzik, Barbara Regna, Nicole Reynolds, Cindy Rinfret, Joseph Roloyn, Wilbur Ross, Hilary Ross, Jean Shafiroff, Patricia Shiah, Valerie Steele, Jacqueline Togut, Mary Turano and Debra Wasser.
Pictured with Kors: Celia Hegyi and Alexandra Lebenthal
Jieun Wax& Kamie Lightburn 
Chris McInerney, Liz Peek